Tanjila Mazumder Drishti represents Bangladesh as an ambassador in the One Young World Summit. Tanjila is a Senior Manager of BRAC's health, nutrition and population programme (HNPP).
BRAC prompted me to take on responsibility from the start of my career. I became the youngest senior manager in the organisation in 2018.
Throughout the years, I gained hands-on learning experience in finding solutions to the toughest socioeconomic challenges prevalent in our society. As a young professional, I was deployed as a branch manager-in-training for BRAC Microfinance.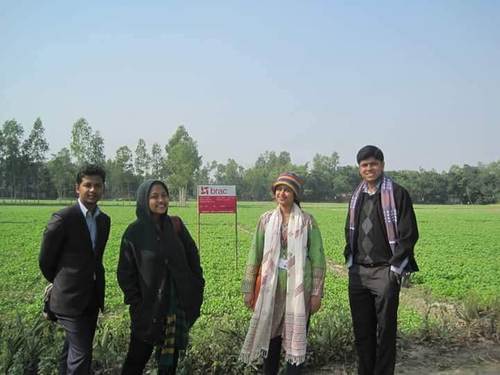 I worked as an area manager after that, and as a regional coordinator. Being a young professional was my first job after graduating – and it was life-changing.
When I was first sent to the field as a branch manager-in-training, I was out of my element. Living in Baniachong, Sylhet and working in the field toughened me up and I knew that development was the only career path that I wanted to follow.
I travelled to the UK to pursue a Master's in Globalisation, Business and Development with a full scholarship from the University of
Sussex. I rejoined BRAC upon returning to Bangladesh. BRAC has since provided me with many opportunities to represent Bangladesh on the global stage. I aspire to keep learning and help others to learn as well.
BRAC has a strong focus on building seasoned development practitioners and leaders who are ready to take on challenges and be a part of solutions in the development space. Leadership initiatives provide staff with fast-tracked career development prospects, providing aspiring development professionals with in-depth, sector-specific knowledge and diverse field exposure to hone their skills for leadership roles. High-performing staff in BRAC are recognised for their leadership potential, and are trained through a year-long programme by close mentorship, advanced training and special assignments.